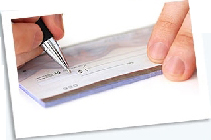 Liberty Gold and Silver LLC accepts three convenient methods of payment for your precious metals purchase.

1. WIRE TRANSFER

The fastest and easiest way to expedite your precious metal order is by wire transfer. Your bank branch will be more than willing to assist you in your transfer of funds for your purchase. Please find our wiring instructions below:

Bank of America

12280 SW Canyon Road
Beaverton, Oregon 97005
ABA WIRE NUMBER: 026 009 593

For further credit to: Liberty Gold and Silver LLC
Account Number: Will be emailed upon request.

The normal cost for US wire Transfer is approximately $25 dollars per transfer. Bank wires can only be made on weekdays. Bank wires completed before noon in any time zone will normally be received by our bank the same afternoon.
2. DIRECT DEPOSIT

You may also may make a direct deposit into our Liberty Gold and Silver LLC business checking account by going directly to any branch of Bank of America.

A. A direct cash deposit may be made at an inside teller window. Because of recent banking regulations for coin and bullion dealers (as a result of the Patriot Act), we can only accept cash deposits from each customer once a year, in an amount less than $10,000.

B. If you are a Bank of America customer with either a checking or savings account, you may make an in–house electronic transfer at a teller window. A teller or branch manager will be happy to assist you with your transaction. Please call us for additional details.
3. PERSONAL OR CASHIER'S CHECK

We accept either personal or cashier's checks for your order. All checks must be cleared by our bank before the purchase price of your coins or bullion can be locked in for you. Please call us directly for check mailing instructions.
Liberty Gold and Silver Newsletter Signup
Home
Contact Us
Sell Your Gold/Silver
Precious Metals IRA
Affiliate Program
Liberty Referral Program
Methods of Payment
Ordering/Shipping
Gold/Silver Financing
Offshore Storage
Terms and Conditions
Subscribe to our newsletter to receive one of the finest and most well–researched reports available anywhere helping you preserve your wealth with gold and silver, and information on special sales and discounts.
Subscribe to our Newsletter


Methods of Payment
We accept cash, check, bank wire, or ACH.