HOURS:
24 Hours a Day
7 Days a Week
Toll Free: 1–888–751–3330 Fax: 503–766–6144
Email:
info@libertygoldandsilver.com
FREE

shipping and insurance on orders over $10,000!


NO

Sales Tax!
The
Heraeus Precious Metals One Hundred Ounce Gold Bar
represents the absolute best value in large denomination gold purchases.
Each bar is handcrafted and buffed and stamped with the Heraeus logo and serial number.
Liberty Gold and Silver offers multiple bar purchases at the lowest prices in the industry. Call for a quote.
The 150 year old Heraeus brand is one of Europe's oldest precious metals refinery and commands respect throughout the world bullion industry.
To view all gold products, click
here
.
Order Now!
Call us Toll–Free at
1–888–751–3330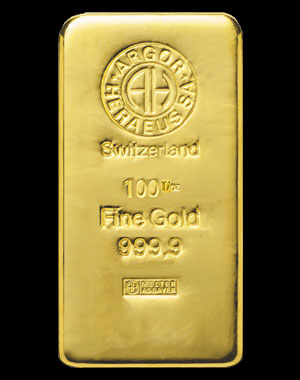 Obverse
Reverse
Order Now!
Call us Toll–Free at
1–888–751–3330
Liberty Gold and Silver Newsletter Signup
Home
Contact Us
Sell Your Gold/Silver
Precious Metals IRA
Affiliate Program
Liberty Referral Program
Methods of Payment
Ordering/Shipping
Gold/Silver Financing
Offshore Storage
Terms and Conditions
Subscribe to our newsletter to receive one of the finest and most well–researched reports available anywhere helping you preserve your wealth with gold and silver, and information on special sales and discounts.
Subscribe to our Newsletter


Methods of Payment
We accept cash, check, bank wire, or ACH.
** Due to the volatile nature of the market these prices are indications only. Prices will be confirmed when ordering.